So, I don't really like fashion. I mean, I like to look good, but I am not crazy about it. I don't really care what brand my clothes are, or who's style I am wearing. I don't even care if my socks match each other. Call we weird, but I would much rather spend my time on something else.
Anyway, but about 9 months ago, I found this brand of clothes that I really like. Which is surprising, because, well, as you can see above, It usually doesn't matter to me. Anyway, the brand is called "Dream out Loud." It is all made by Selena Gomez, and you can buy it at Kmart. Now, I never liked Kmart. The one here in town is kinda dirty. But when I got a gift card there for Christmas, I had to find something I wanted. That's when I found this brand.
The clothes are nice, because they are modest, and trendy at the same time. Plus, they are cheap. Usually when I go clothes shopping, I have to get a Large or Extra Large in Juniors because everything is so tight, and I like to have some room to breathe. But with this brand, I can get a small or medium in Juniors, and it fits perfectly.
I have some things that I love to wear from DOL (Dream Out Loud) And I am going to show them to you, and tell you how much I spent on them.
Sorry the picture is kind of blurry. Anyway, I got these Jean Shorts for about $12.00. I really like them because they are very comfy. And for only $12.00, I think that they are a good deal. :)
I got this shirt, only mine is red. It was the first thing from DOL that I got. It was also $12.00. I haven't worn it in a while, because it is more of a fall/winter shirt, and I would be warm with it on in the summer. I like the shirt a lot.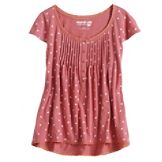 I think this shirt is my favorite out of all DOL clothes. I got it for $6.00. I believe that it is usually more, but it was on sale. I also love the color.
I have a few other things that I couldn't find a picture of. But if you want to look at some of the Dream out Loud stuff, you can go on www.kmart.com/dreamoutloud to see the rest.
Anyway, hope you have a great weekend!!! :)